I couldn't hold out any longer. I was thinking of waiting for
BooMama
's Christmas Tour of Homes to post the Christmas decorations that have been up for a while, but I just couldn't do it, Captain! I'll just make sure to link back to this post on December 15th!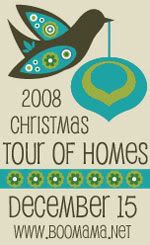 So welcome to our home! If you were here in person I'd offer you some Spiced Tea...and I'd probably make some No Bake cookies. So grab a mug of spiced tea...a couple of cookies and join the next tour, beginning in 5...4...3...2...1
Welcome!
Here are our windows decorated with Snowflake lights and my cute decoration of snowmen!
Once you are inside the living room/Kitchen/Office/Laundry Room combo (it is a one bedroom apartment people...work with me), you will find our nativity scene and some angels on our entertainment center which is to your left after you come in the front door.
Directly to your right in front of the window is our Christmas Tree...Thank goodness I purchased a skinny tree in 2006 on the day after Thanksgiving shopping trip. A fat one (I mean "full" one) would have never fit. There are pictures of our 2008 Ornaments as well...Christmas Beagle for Gus, glittery penguin for me and Hoopin' in up Santa for John.
The stockings are hung on the wall behind the couch and under the wreath with care!
Right next to the entertainment center is this DVD holder (deguised as a bookcase)...it has our collections of Santas and snowmen.
Moving forward into the Kitchen...look up above the cabinets...
Now moving to the bedroom...on the armoire...
Snowman village on the chest of drawers...
This cute little sign was purchased with the 40% off coupon for Hobby Lobby a couple of weeks ago.
I think that about sums up the tour...please leave your mugs in the sink on your way out! Merry Christmas to all! I hope that this year, everyone takes time to enjoy old family traditions and make new ones. Also, remember the reason we celebrate this time of year...our Savior!